Movable Shot Blaster Export to Thailand
Kholee Blast successfully awards 1 unit of KLRO270 Movable Shot Blaster from Thailand Client to prepare the surface of steel plate, road, concrete floor. Movable shot blaster | Concrete Floor Blaster | Road Blaster is used to mainly used for road construction, maintenance, bridge. Shot blasting technology is widely used in bridge anti-corrosion, road roughening, removing road marks, clean paint film and rust from steel plate etc. During blasting, the whole process is of no dust, movable, high productivity.
- For Concrete: road blaster | concrete floor shot blaster is used to remove impurity and laitance layer on concrete; also it can roughen the concrete and make the surface uniform roughness which can improve the adhesive force between water proof layer and concrete layer; also it can make the crack of concrete show completely.
- For Steel: Before primer painting to steel plate in steel bridge or oil tank, it must do blasting to clean the surface of steel. By shot blasting, the surface quality of steel can reach Sa2.5/Sa3.0 and get certain roughness, which can meet the requirements of coating. The whole blasting process is of no dust and easy move.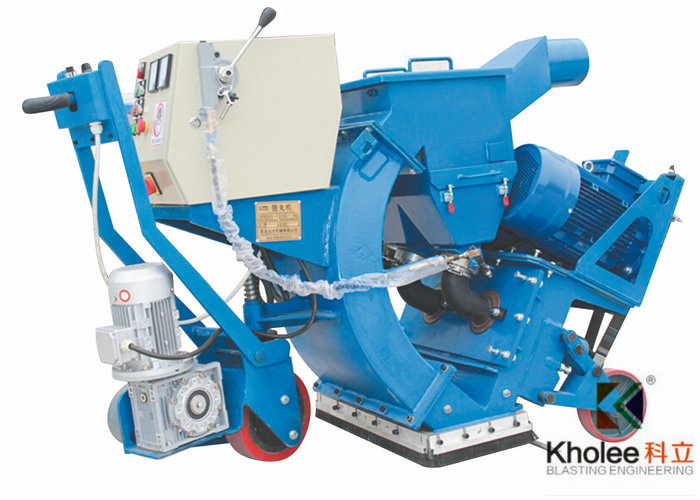 Application
- Improve the roughness and friction factor of asphalt pavement to improve adhesive force of road and guarantee safety of driving.
- To do blasting cleaning to steel structure bridge, oil tank and ship deck. After blasting, it can reach Sa2.5/Sa3.0 which is good for painting.
- Cleans offshore platforms, prepares petroleum and water storage tank surfaces
- Tunnel Road Maintenance
- Airport runway preventive maintenance: remove tire marks of air planes, road markings, improve adhesive force, roughness and friction factor of airport runway.
- Municipal Road: remove tire marks, road markings, improve adhesive force, roughness and friction factor of municipal road.
- Concrete Floor: cleans factory and warehouse floors, prepares parking lots and garage decks.
Contact Us
YANCHENG DAFENG SANXING MACHINERY CO., LTD
- KHOLEE BLAST
Add: Dalong Industrial Park, Xituan Town, Dafeng, Yancheng, Jiangsu, China 224125
Tel: +86-515-8380 9688
Fax: +86-515-8375 5498
Email: kholeeblast@gmail.com
Mobile: +86-139 1469 8671
Whatsapp/Line: +86-139 1469 8671
Skype: surfacefinishing
Website: www.kholeeblastpaint.com