Energy Saving Air-Cooled DEHUMIDIFIERS WITH HEAT PUMP TECHNOLOGY are used for drying air of up to 95% relative humidity (RH) with temperatures to +45ºC AND ABOVE. It is widely used in the area of TROPICAL, SUBTROPICAL AND TEMPERATE REGIONS.
The applications are numerous and wide spread. Below are some examples:
- Surface treatment during internal blasting and painting of tanks
- Shipping industry, both for permanent and temporary applications
- Controlling humidity levels in production processes
- Protection of equipment sensitive to corrosion
- Climatic improvements in damp areas
HEAT PUMP TECHNOLOGY
The heat pump is a device that transfers heat energy from low temperature reservior to high temperature reservior. Usually, the low temperature reservior of heat pump is the medium around us, such as air, river water, sea water etc or the discharged working medium from industrial equipment. Those working medium has the similar temperature as the medium around us. The Air Cooled Dehumidifier with heat pump technology is comprised of compressor, evaporator, throttling, condenser, condenser heater, four way electromagnetic reversing valve etc as a circulation system.
In Summer or high temperature climate for cooling, the high pressure steam of R22 will be divided into two ways and enter condenser heater and condenser. The R22 steam will get cold and condense to liquid; then the R22 liquid will enter evaporator through throttling device and absorb heat in evaporator; When the air passes the evaporator, it will get cold and water steam will become water drop to get dehumidifying; In R22 liquid will become R22 steam in evaporator and enter compressor through reversing valve. Go round and begin again to achieve cooling circulation. During practical operation, the compressor can be adjusted to distribute condensing heat of condenser heater by solenoid valve according to thermal load, to achieve the function of using condensing heat as heater to heat and dehumidify, reduce the energy consumption of condenser fan.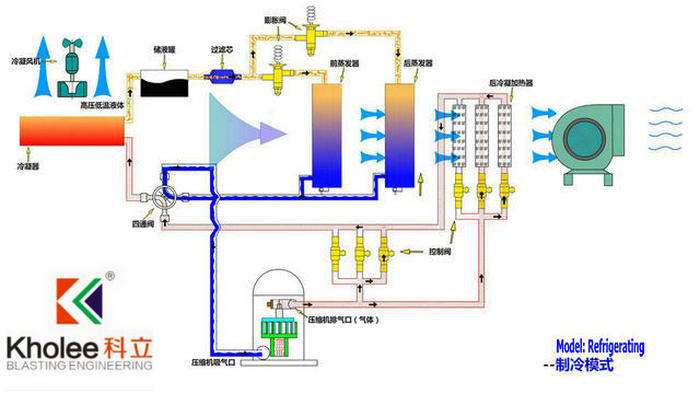 When the air temperature of environment is high, it can open solenoid valve to spray liquid R22 to compressor to reduce the internal working temperature of compressor and improve working status of refrigerating system.
In Spring and Autumn, the heat and humidity load is small but it still needs to start refrigerating system, it can open solenoid valve to let partial high pressure R22 steam enter evaporator to make refrigerating system working continuously.
In winter for heating or the low temperature client for heating, the four way electrical magnetic reversing valve will be turn to heat pump working position, the compressor high pressure R22 steam will be divided into two ways and enter condensing heater and condenser. When R22 steam condenses to liquid, it will release latent heat to heat the air and achieve temperature rise but humidity reduction. The R22 liquid after condensing will enter condenser through throttling device reversely and absorb heat around and become steam. The steam will be absorb by compressor through reversing valve to finish heating circulation. (By adopting this type of heating, the heating energy efficiency ratio improves a lot and it is ≥2.5 times compared with electrical heater.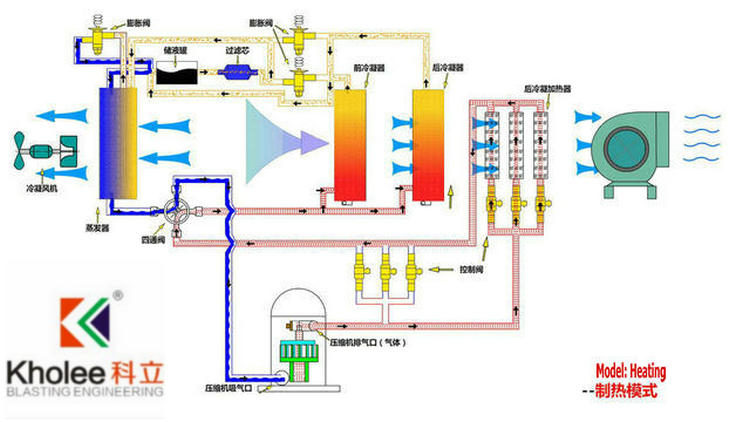 Characters of Air Cooled Dehumidifier with Heat Pump Technology
1) High efficiency of heating: There is a condenser heater at pipeline. The compressor can control the volume of condenser heater and condenser via electromagnetic valve to distribute condenser heat for condenser heater. Thus, the condenser heat will be supplied preferentially as heat energy for temperature rise after evaporator. Compared with electrical heater as heat energy for temperature rise, it has high efficiency of heating.
2) Reduce energy consumption and save energy: because it adopts condensing heat to rise the air temperature after evaporator. It will reduce energy consumption of condenser fan and no need to adopt electrical heater. It will reduce energy consumption, reduce the operation cost.
Air cooled dehumidifier WITH DESICCANT ROTOR is delivered as a complete unit with fans, filters, condenser, evaporator, compressor, DESICCANT ROTOR, REGENERATING HEATING and controls. The dehumidifier is ready for site installation and connection to standard-size ducting. Each dehumidifier will be custom designed according to the local conditions and the needs of the customer
Energy Saving Type Air Cooled Dehumidifier With Heat Pump Technology

Model

KL-LFS10

KL-LFS15

KL-LFS20

KL-LFS25

KL-LFS30

KL-LFS35

Process Airflow (m3/hr)

10000

15000

20000

25000

30000

35000

Compressor Power (KW)

37.5

60

75

90

112.5

135

Process Air Fan (KW)

15

15

30

30

37

45

Refrigerating Output (KW)

166.5

246.3

302.8

364.8

429.4

549.1

Heating Output (KW)

183

271

333

401

472

604

Outlet connection (MM)

Φ500

Φ600

Φ700

Φ800

Φ900

Φ950

Total Power (KW)

57

81

113

135

162

196

Equipment Size (MM)

3200×1800

×2400

3750×2000

×2400

4000×2200

×2700

4200×2400

×2900

4800×2400

×2900

5100×2400

×3000

Weight (T)

3.0

3.8

4.5

5.2

5.8

6.5

Cooling Step Control

25%-50%-75%-100%

2×(25%-50%-75%-100%)

Temperature Control

Type

High sensitive temperature sensor + PLC auto control

+ Touch Screen Display

Condenser

Copper Tube + Aluminium Fins with galvanized casing

Evaporator

Copper Tube + Aluminium Fins with galvanized casing

Or Copper Tube + Copper Fins with stainless steel casing

Air Intake Condition

Temperature: -10~40°C, RH≤60~95%

Air Discharge

Condition

Temperature: 18~40°C, RH≤15~50%

Air Discharge Pressure

≥ 1200~2500Pa
Note (All Models):
1. Power supply: 3-phase plus earth 380V/ 415V / 50 Hz
2. Refrigerant: R22, OTHER REFRIGERANT FOR OPTIONAL
3. Cooling step control: 25%~50%~75%~100%
4. Cooling Media: Air
5. Discharge condition: 25 ± 3 °C/RH below 45%
6. We have the policy to improve our equipment continuously & shall reserve the rights to change the dimensions and specs without prior notice.